Four-year-old missing - major search operation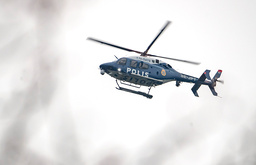 A four-year-old boy has been missing since 4pm near Gäddeviksås, which is located between Tingsryd and Karlshamn
He was sitting in the back and playing. When you looked out a minute later, he was gone, says Evelyna Olsson, a press speaker at the police.
Family members alerted the police about 40 minutes later. During the evening there was a major search effort.
Both dogs and helicopters are looking for the boy," says Evelina Olsson.
By 22 o'clock the boy was still not found. The police had then expanded their search effort with the help of skulls and drones.
The boy is not a resident of the area. The police do not suspect any crime.