UN chief warns on the anniversary of Hiroshima bomb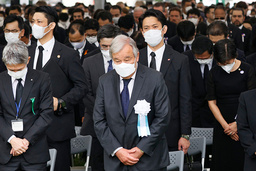 On the 77th anniversary of the Hiroshima nuclear bomb, Un's Secretary General Antonio Guterres reminded of today's nuclear threat, at a memorial ceremony in the Japanese city.
Humanity playing with a loaded weapon, said the UN chief and repeated the warnings he issued at the UN Disarmament Conference in New York in early August. Crisises at risk of nuclear weapons "are spreading rapidly," said Guterres, mentioning the trouble spots in Ukraine, the Middle East and the Korean Peninsula.
Russia's ambassador was not invited to the ceremony but visited Hiroshima on Thursday to place flowers at the memorial site of the attack.
Some 140 000 people died when the USA bombed Hiroshima on August 6, 1945, including those who died of radiation damage after the attack. The victims were honored on Saturday morning by a minute's silence at the time the bomb was dropped 77 years ago, at quarter past eight.