Head of Amnesty Ukraine resigns in protest
The head of Amnesty International's office in Ukraine, Oksana Pokalchuk, resigns in protest against the controversial report of the human rights organisation criticising Ukraine's military response to Russia's invasion of the country.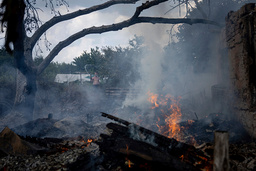 The report was released on Thursday and aroused agitated feelings in Ukraine. The organization accuses the country of breaking international law and putting civilians in danger.
The report claims that Ukrainian military use residential areas, including schools and hospitals, as bases. A total of 19 towns and villages are listed in the Kharkiv, Donbass and Mykolaiv regions where they claim to have documented this. Amnesty emphasises that it does not justify Russian attacks on civil society structures.
"If you don't live in a country invaded by occupiers who tear it apart, you probably don't understand what it's like to condemn an army of defenders," writes Oksana Pokalchuk on social media after her resignation.
Pokalchuk says that she has tried to warn the leadership that the report is one-sided and that it fails to take into account Ukraine's position.
Ukraine's President Volodymyr Zelensky has also commented on the report and does not share the critical picture. Instead, he accuses Amnesty of trying to "change responsibility from the attacker to the victim".