Right-wing extremists near Pride parade
Right-Extreme Alternatives for Sweden (AFS) has been granted permission to hold an election rally close to the start of this year's Pride Parade.
The party has accused Pride of the sexualization of children.
I personally find it rather nasty that they are there," says Minister for Gender Equality Eva Nordmark (S).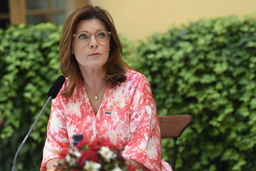 The Pride parade through Stockholm streets on Saturday is expected to gather about 50,000 in the parade itself and up to half a million spectators, according to the organizer.
The start is from Kungsholms torg on Norr Mälarstrand. A few miles away in Rålambshovsparken, the right-wing party Alternatives For Sweden has been granted permission to hold elections.
The AFS received 0.31 percent of the votes in the elections 2018. They write on Twitter ahead of the parade that families attending the election parade should keep a close eye on their children as they move near the parade, to protect them from the "LGTBQI lobby and the vulgar sexualization of children."
"Stand for something else"
The fact that the party received permission for its arrangement so close has been criticized by the Pride organisers. However, AFS claims that they applied for permission long before the date of this year's Pride was published, and that they applied for permission in another place further away but received a no.
Minister for Employment and Gender Equality Eva Nordmark, who will be on the parade, does not want to comment on the police's choice of location.
As a government, we have no point of view on this, but we have confidence that they will carry out their tests and assessments on the basis of the legislation we have.
She thinks, however, that it feels nasty with right-wing extremists so close to the parade.
It's more the feeling that they stand for something completely different than the openness that we want to signal and that I think feels very important on Saturday to manifest: everyone's equal value, because everyone has the right to love who they want, be who they are, dress as you want – the freedom and diversity.

This is something that this organisation does not support in this way," says Nordmark.
SD banned from debate
Minister of Education Lina Axelsson Kihlblom (S), the first openly transsexual person in the Swedish government, does not want to comment on the choice of place for AFS meeting. But she can understand a general feeling in society.
I can understand people feeling a fear that right-wing conservatives, perhaps neo-Nazis, racists or others are generally present in society.
Another discussion that has arisen in connection with Pride Week is that the Swedish Democrats continued to be banned from RFSL's party leader debate on Friday.
Neither Nordmark nor Kihlblom want to take a stand on this issue and say that the organiser is an independent organisation that must make its choices.
At the same time, the Minister for Gender Equality believes that it is important for parties to be able to express their values and answer in debates.
My general starting point is that this debate is important, and it will take place in other forms and in other arenas, so it is very important that all parties have to answer and express their policies. I think that is important to the voters," says Eva Nordmark.