Wool blanket protects glacier at Kebnekaise
Part of Björling's glacier, at the eastern trail up to Kebnekaise's peak, has been covered with wool blankets. The aim is to try to slow down part of the melting.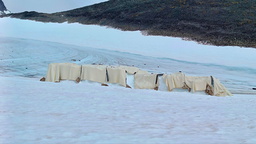 The 200 square meters of wool blankets were laid out in the spring, hoping that they can protect a little from summer melting. An attempt to control nature? No, first and foremost a way to focus attention on global warming, explains the initiator Oskar Kihlborg:
I wanted to carry out a visual project that illustrates what is happening, without any claim to save all the glaciers of the world.
Oskar Kihlborg, adventurer, photographer and lecturer, has spent a lot of time on glaciers around the world. He notes that glacier covers have been made in several areas, including the Alps and the USA. But in those cases, tarpaulins made of fossil material have been used
In this project the canvases are made of wool. The blankets will be seen by the estimated 3 000 people who this season climb Sweden's highest mountain through the eastern trail.
Björling's glacier is the second glacier in Sweden to be sheltered from the heat. Previously, Sweden's southernmost glacier, Helags, has been covered with blankets – but only a modest 40 square meters.
With Kebnekaise much further north, we expect that the canvas can prevent three meters of melting until September. Next year we will make detailed and parallel measurements at Helags and Kebnekaise to see how the melting is different," says Oskar Kihlborg.
Studies have shown that almost all the glaciers of the earth are shrinking, i.e. that the melting from them is accelerating. Researchers have pointed out that many of them can eventually disappear completely.