van der Poel sick – misses the Swimrun debut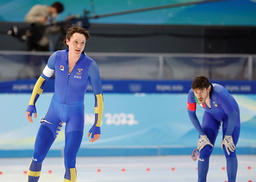 On Saturday the idea was that the former skate star Nils van der Poel would make the debut in the Swimrun in the race Ö to Ö Gothenburg.
That's not gonna happen.
The 26-year-old doesn't come to the start because of illness.
"Both the organizer, other participants and audience had been looking forward to following the progress of the popular athlete in a new sport," writes the organizer in a press release.
Nils van der Poel would have competed with the world champion Oscar Olsson.
In the swimrun, the contestants alternate between swimming in open water and running. The team consists of two people.
Nils van der Poel, who took double Olympic gold (5,000 meters and 10,000 meters) in Beijing, chose to end his career after last season.
Facts: Nils van der Poel
Date of birth: 25.4.1996 (26 years).
Main merits: Olympic gold at 5,000 meters in 2022 (new Olympic record, 6.08.84), Olympic gold at 10,000 meters in 2022 (new world record 12.30,74), World Cup gold at both 5,000 and 10,000 meters in 2021, gold at the all-round World Cup 2022 (Swedish record: 148,696). World record at 5,000 meters (6.01,56). Gold at the Junior World Cup at 5,000 meters in 2014 and 2015.