Storm continues northwards - SMHI warns
The storm that affected Västergötland the Thursday night is now on the way up over Norrland.
We have set a yellow warning for torrential rain during the night, says Lars Knutsson, meteorologist at SMHI.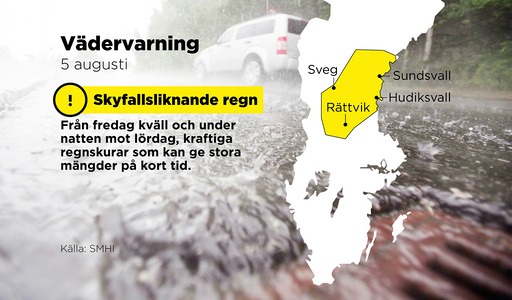 Thursday's rainstorm is expected to continue northwards overnight into Saturday, albeit in a slightly weaker form. According to SMHI, heavy local showers are expected in an area between Dalarna and Ångermanland.
In some areas, heavy rain in the form of heavy showers can be expected. But it is difficult to say exactly where the heaviest rain will fall, says Lars Knutsson, meteorologist at SMHI.

Locally, up to 40 millimetres may occur in connection with heavy thunderstorms.
Most of the heavy rain is expected to fall on Friday evening and during the night into Saturday.
Train stop in Västergötland
Töreboda municipality in Västergötland was one of the places that was hit hard in connection with Thursday's storm. In the nearby area, among other things, a blown-out roof tore down a contact line, leading to delays and cancellations of trains on the Gothenburg–Stockholm route.
Between Töreboda and Skövde it is a total stop. The earliest forecast for us to open a track there is Tuesday, said Felicia Danielsson, press communicator at The Swedish Transport Agency, on Friday morning.
Västtrafik has put in replacement buses.
Working on the Problem
The Swedish Transport Agency's staff could not arrive at the site until midnight, Thursday night, because it was not deemed safe until the weather had calmed down a bit.
Once on site the first thing we did was evacuate the passengers from the train, and at nine o'clock we were able to get the trains off the site. What we are doing now is getting rid of all the debris that were blown down over the rails and contact lines, says Felicia Danielsson.
Some of SJ's high-speed trains from Stockholm to Gothenburg, which run between Töreboda and Skövde, will be diverted via Falköping, Jönköping and Nässjö, leading to longer travel times and changes in slots.
Our ambition is not to cancel any trains, but you have to be very attentive as a traveler in case it should be," says Peter Krameus, press communicator at SJ.
Also for other train companies, longer travel times and changes in departure times.