Jordan Larsson ready for Schalke 04
Previously this summer Jordan Larsson broke with Spartak Moscow.
Now the Swedish attacker has found a new club address: Schalke 04.
"I look forward to becoming part of the team," says the 25-year-old in a statement.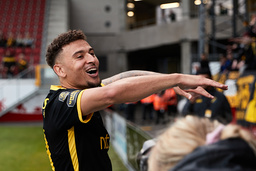 The agreement with the classic club, newcomer in the Bundesliga this season, extends over the season 2024/2025.
"I'm very happy. Schalke 04 has made impressive progress in recent months, something that I've followed close at a distance. I look forward to becoming part of the team and contributing so that it will be a successful season for us," says Larsson in a statement on the club's website.
Sports manager Rouven Schröder:
"Jordan convinced us that he is very interested in Schalke 04 and our common goal to stay in the league. His qualities make our attack even more unpredictable," says Sports Director Rouven Schröder.
At the end of June Larsson left AIK after a short guest performance, while leaving the Swedish club he also broke the contract with his former Russian club Spartak Moscow.
The Bundesliga starts this weekend and in the premiere, on Sunday, Schalke 04 is placed against Cologne on the away field.