Sweden loses world ranking after the European Championship
The Swedish Football Championship in England ended with a semi-final loss to England. The final team's success means that Sweden loses a position on the world ranking and is third.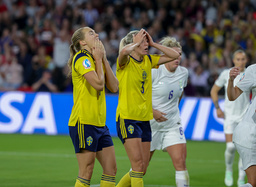 Sweden went out of the European Football Championship in the semifinals against England in what was a one-sided history. The departure and 0-4-loss has also echoed the world ranking.
Since the International Football Association FIFA's last ranking, June 17, Sweden has been in a record second place. But now you get to see yourself in third place.
England may have won the European Championship on home soil, but Germany's place in the final sees them climb three places to take over second place from Sweden.
"The Lionesses' win sees England climb four places to fourth.
Norway and Denmark's group fiascoes see them drop two places each, 13th and 17th respectively.
the USA won the Central and North American Championships – their version of the European Championship – in July and remains at the top of the world ranking.