How to strengthen businesses in the cultural sector
A new strategy to strengthen businesses in cultural and creative industries is proposed in a new study.
The idea is to challenge politicians to think from several different perspectives.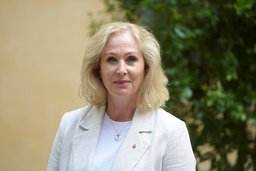 How can companies in cultural and creative industries be strengthened? On Friday, the state inquiry "Creative Sweden" was handed over to Minister of Culture Jeanette Gustafsdotter (S).
The study states that cultural life consists of public institutions as well as private companies, but that the latter dominates and that culture is thus part of the business community. The proposal is a new strategy, to be implemented over a ten-year period, focused on six priority strategic areas.
Shared responsibility
The study proposes, among other things, shared responsibility between policy areas in order to achieve synergies. One proposal is that both the Ministry of Culture and the Ministry of Enterprise will be responsible for leading the strategic work together with additional departments in the Government Office.
The investigation also proposes that the government should work strategically and actively with, among other things, market conditions for copyright. In this way, entrepreneurs and companies could be given the opportunity to provide needs-oriented advice and training on these particular issues.
Another proposal is to strengthen local and regional competitiveness.
Multiple Perspectives
The idea of the new strategy is to challenge the policy of thinking from several perspectives at the same time, says the government's investigator Tobias Nielsén.
"In ten years' time, Sweden will also be an internationally leading creative country on the other side of the major and rapid changes in society that we find ourselves in," he says in a press release.
Facts: The study's proposal in strategic areas
Clear cross-political responsibility for knowledge, synergies and collaboration.

Renewal of advice, capital supply and innovation support.

Long-term and fast in the copyright market.

Exports, internationalisation and value creation abroad.

Sustainable labour market and skills provision for all.

The importance of the site for cultural and creative activities.