Bus and car crash – two dead
Two people have died since a bus and a passenger car had a frontal collision in Härryda municipality outside Gothenburg on Thursday.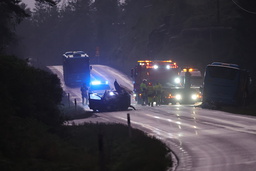 It's a man in his 65s and a man in his 25s, says the police, and one of them must have been in the passenger car and the other in the bus.
Three more persons with unclear injuries have been taken to the hospital by ambulance. Several people are reported to have been slightly injured.
The accident occurred at 18:30 at Road 156 and several units from both emergency services, ambulances and police were alerted to the location. Over ten people must have been on the bus at the crash and one person must have been in the passenger car.
It was pretty messy on the spot and many upset feelings and shocked people, says police press speaker Jenny Widén.

At present, we do not know what caused the accident. We have initiated a preliminary investigation to investigate what has happened. The vehicles are to be examined by technicians and interviews with witnesses are to be held, she continues.
The incident is investigated as negligence in traffic.