Risk of water scarcity in southeastern Sweden
Over 90 lakes, watercourses and groundwater resources are at risk of water scarcity in south-eastern Sweden. The Swedish Water Agency for the Southern Baltic Sea now warns that preventive measures are needed to save access to water in the long term.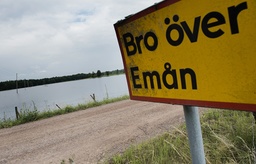 "It's a kind of water budget that doesn't make sense. It's important to take both urgent measures but also to think long-term," says Irene Bohman, Director of Water Protection.
The flows in Emån, which flow through parts of Småland and out into the Baltic Sea, are currently critically low due to too high water withdrawals after a dry spring and summer.
However, according to the Water Authority Southern Baltic Sea, a further 91 bodies of water in the southeastern parts of the country are at risk of shortage. Ten are surface water, 81 are groundwater.
Simply disappears more water – including irrigation, households, electricity and food production – than is added.
Prevent and minimise
The Agency has developed an action programme against drought and water scarcity in the southern Baltic Sea water district.
"At the moment, we are in an acute situation where several municipalities have difficulties with their drinking water supply and also industries and farmers. It is a recurring phenomenon down here in the southeast, and it is important to reduce the times with emergency situations and be prepared, to prevent and minimize negative effects," says Irene Bohman.
This is partly about advice on more efficient water use and partly about measures to maintain more water in the soil by reducing dewatering.
"This means that you can close the ditches where it doesn't do any good anymore, to keep the water in the landscape," says Irene Bohman.

"We also have advice for companies, both industrial and manufacturing companies and agriculture. So that you can get tips and help how to circulate water within your systems and save water in general. "
Broad Perspective
One proposed administrative measure is for the Swedish Agency for Marine and Water Management to provide guidance on how the county administrative boards should conduct monitoring of water abstractions, in order to verify compliance with permits and to better control water abstractions from the non-authorised.
The Southern Baltic Water Delegation will decide on the action programme on 24 August.
Irene Bohman explains that the purpose is both to save ecosystems and to ensure that everyone who needs to have access to water.
"It is a broad societal perspective that we are trying to look at. We believe that the problems of water scarcity may come more often now as the climate changes. "
Facts: Southern Baltic Water District
The district comprises 91 municipalities and 2.9 million inhabitants in south-eastern Sweden.
478 lakes, including Vättern, 968 waterways, 177 coastal waters and 580 groundwater are identified as bodies of water.
Among the 30 main river basins are Motala stream, Emån and Helge river.
Many of the watercourses have great socio-economic value, for example for households, industry, irrigation and power generation.
Source: Water Authority Southern Baltic Sea