Stuffed foxes can scare away geese
Swedish bathing water is polluted by goose poop, which has become a growing problem in several municipalities. However, at a local boat club north of Gävle they have managed to get rid of the birds after inspiration from Canada, reportsThe Worker's Sheet.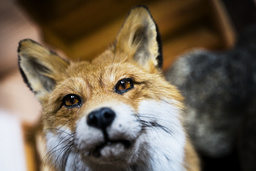 At seven of Stockholm's bathing areas it is advised to avoid bathing due to high levels of e-coli bacteria. A cold drink in these waters can lead to diarrhoea and stomach sickness.
According to the Environmental and Health Protection Inspectorate, the high levels of bacteria are partly due to the fact that feces from a growing goose population end up in the water, reportsDagens Nyheter.
In Malmö, the number of Canada geese and white-fronted geese has decreased following an operation in the municipality to puncture the birds' eggs. Despite this, there is still more poo in Malmö city waters than is desirable.
However, one place where the birds have been successfully eliminated is at a boating club in Norrsundet, north of Gävle. One of the club members received a tip that in Canada they use stuffed foxes to scare the birds away, reports Arbetarbladet.
For a year, therefore, a stuffed fox has been moved around at different times of the day so that the birds will not see through the scam. The man who introduced the fox to the harbor believes that the fox has had a good effect.
It's a humane way to get rid of the problem, but they move to other places in the district, he says to the newspaper.