Asoro hero with double goals – just cross for AIK
3-1 away from Romanian Sepsi gives Djurgården an excellent location for the return.
Victory director: Joel Asoro with double hits.
Worse did it for AIK – who only got 1-1 at home against North Macedonian Shkendija.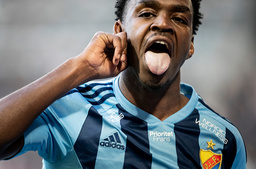 Two quick goals laid the foundation for Djurgården's victory against Sepsi in the first meeting of the third qualifying round to the Europa Conference League.
First, Victor Edvardsen from the penalty point, through the post, into the goal.
Five minutes later: Magnus Eriksson with lift to Piotr Johansson on the right, Johansson with a nick pass into Joel Asoro, Asoro scorer from close range. A nice football goal.
Asoro wasn't finished there.
Two-goal shooter
At the beginning of the second half, the 23-year-old did his second for the night when he was drifting, drifting and drifting before firing a hard left shot that sought his way into the finish.
Sepsi received a reduction in punishment at the end of the second half, Alexandru Tudorie, but did not get any closer than that.
3-1 to Djurgården it was and the return meeting is played in Stockholm on Thursday next week.
AIK received 1-1
As good a situation as possible AIK does not have before its return meeting with Shkendija.
AIK had home ice and Friends arena was shocked.
It took only 30 seconds for the guests from North Macedonia to break the zero. Ferhan Hasani took advantage of a sloppy AIK play, conquered the ball before he outsmarted Kristoffer Nordfeldt in the home meal.
Fifteen minutes later it was 1-1 on the scoreboard.
Sebastian Larsson struck the post, John Guidetti managed it with the forehead.
I think we're clearly better than them. We talked about that we wouldn't be careless at first, unfortunately we do it. But it's as it is. Now we have to make sure to correct it. We've made a (goal) and we get to continue, sometimes we do it very well, said Guidetti to Aftonbladet in half time.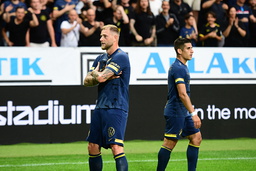 John Guidetti celebrates his 1-1 goal.
Foot save
Further did AIK in others, but no dividend was received by the home team.
Nicolás Stefanelli tried, but Kostadin Zahov in the goal responded with a foot save.
Sotirios Papagiannopoulos had position on the corner, but nodded outside.
AIK didn't get another ball, so neither did Shkendija.
1-1 was for the return meeting in Skopje, also next Thursday.
We are not satisfied with that, I think we are letting go of far too much conversion and so we are not making goals of our chances that we have forward, says Papagiannopoulos.