Griner: "I hope you don't ruin my life."
The trial of American basketball star Brittney Griner continues in Chimki outside Moscow.
Prosecution claims 9.5 years in prison for the 31-year-old.
I hope your judgment doesn't ruin my life, she says.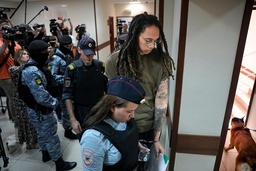 Brittney Griner is charged with possession of e-cigarettes with cannabis oil in and has confessed guilty but said that the crime was unwarranted. Now the prosecution has claimed prison for 9.5 years.
I believe that the court should find Grinder guilty and sentence her to 9.5 years in prison," says prosecutor Nikolai Vlasenko.
Griner himself has pronounced himself before the Court of Justice.
I made an honest mistake, I hope your judgment doesn't ruin my life.
On February 17, the dual Olympic gold medalist was arrested at an airport outside Moscow.
Griner and her lawyers say that cannabis oil is in the trunk because of sloppy packing and that she has cannabis prescribed by doctors as pain relief.
the USA has confirmed that it wants to get a prisoner exchange with Russia to bring home Griner. the USA has offered Russian arms smuggler Viktor Bout, who is serving a 25-year prison sentence. In exchange, they want to bring home Paul Whelan, who has been in Russian prison for espionage since 2020.
Mr Blinken, Minister for Foreign Affairs of the the USA, has spoken to his Russian counterpart Sergei Lavrov about a solution to bring Griner and Whelan home.
The White House press secretary Karine Jean-Pierre has confirmed that Russia has made a counteroffer that the USA does not want to accept.
Russian spokespersons have made it clear that an exchange of prisoners is not valid until the trial is over.