Liberal recipe: Lower taxes on electricity
The Liberals want to reduce VAT on electricity from the current 25% to 6% in order to tackle the run-down electricity prices.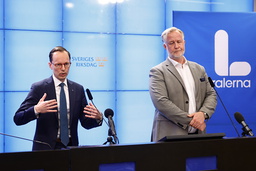 The party also wants to reduce the energy tax on electricity, in a first step by 5 cents/kWh (6.25 cents/kWh including VAT).
"The price trend we see at electricity in central and southern Sweden is at a level that requires policy action to mitigate the impact on households and consumers", says a press release.
"It's about how people will cope with the shock-raised electricity prices. Sweden is moving towards darker times, we don't know how cold it will be this winter, but that prices will rise," says L-leader Johan Pehrson at a press conference.

Households are pressed while the government makes profits, the party's economic-political spokesperson Mats Persson fills in.
According to the party's calculations, the VAT reduction and a lower electricity tax would mean reduced costs of about SEK 20 000 per year for an electricity-heated villa in southern Sweden.
This is an election promise from the Liberals, we want to reduce the cost shock that will rip people's wallets out," says Johan Pehrson.
The party's objective is that, in the long term, when public finances allow, the electricity tax should at least be halved from today's level.