Signs of Russian Intent Behind Attack on Prison
The prison building that was attacked in Olyonivka last week was newly built to keep Azovstal soldiers captive, according to analysts.
There is much evidence that the soldiers, declared heroic in Ukraine, were moved there shortly before the attack, says Ukraine's ambassador Andrii Plakhotniuk to TT.
Everything was done on purpose.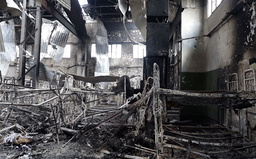 In the small community Olyonivka lived about 4,500 …