New nuclear talks in sight
The talks on Iran's nuclear programme appear to be being resumed, as early as this week.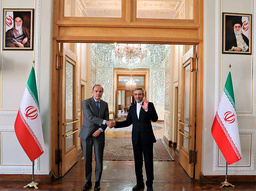 Iran's Chief Negotiator Ali Bagheri Kani was, according to the State Department, on his way to Vienna on Wednesday for new negotiations, in order to "lift the cruel sanctions against our country".
EU representative Enrique Mora is also on his way to Vienna, he writes on Twitter. According to AP, Robert Malley, USA's special envoy for Iran, is also going to the negotiations in the capital of Austria.
In May, an EU delegation led by Enrique Mora visited Iran for talks on a way forward for the nuclear agreement, which were said to have gone "better than expected", but neither they nor further talks between Iran and USA in Qatar in June led to a breakthrough.
Last week, EU Foreign Affairs Commissioner Josep Borrell presented a compromise proposal which he called on all parties to accept in order to 'avoid a dangerous nuclear crisis'. On Wednesday, Iran expressed optimism about this proposal, which is to be discussed in Vienna.
The previous agreement was concluded in 2015 between USA, the United Kingdom, France, Germany, Russia, China and Iran, limiting Iran's ability to enrich uranium in exchange for lifting economic sanctions against it.
USA's ex-president Donald Trump demolished the agreement in 2018 and reintroduced severe sanctions. After Trump's resignation, the prospects for a new agreement have brightened.
Facts: Iran Agreement
The JCPOA nuclear energy agreement was signed in 2015 by Iran and by what is called 'P5+1' – the five permanent members of the UN Security Council (France, China, Great Britain, Russia and USA) and Germany.
The agreement was aimed at preventing Iran from developing nuclear weapons – after decades of global fear of this.
In exchange, international sanctions against Iran were to be lifted.
In 2018, however, USA's President Donald Trump left the agreement and since then it has creaked heavily in the joints. USA reintroduced tough sanctions against the country, which has affected other countries' ability to trade with Iran.