Many in danger due to shooting in Borås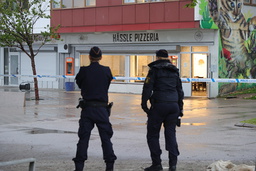 It was fortunate that no more than two people were injured during the shooting in Borås on Tuesday evening. This assessment is made by the police, after talking to witnesses and examining the square in the district of Hässleholmen, where The Scot was fired.
A man in his 25s and a boy in his younger teens were injured at the incident. According to the police, both may have been accidentally hit. The man's condition is serious. The boy is mildly injured, and probably hit by a ricochet.
Many shell casings have been found at the scene, where the situation on Tuesday night was described as messy.
No suspect has been arrested, but there are a lot of witnesses, as well as footage from security cameras.
The shooter is reported to have been masquerade, leaving the scene on a scooter. The police believe that the shooting can be linked to criminal gangs in the area.