After the death of the terror leader, "Back to square one."
History is repeated in Afghanistan in the Taliban, and the killing of Al-Qaida leaders in Kabul shows that the terrorist organisation has once again been given refuge in the country.
We're back to square one, says terrorist scientist Hans Brun.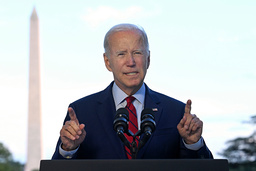 In recent days, 71-year-old Ayman al-Zawahiri must have lived and conducted al-Qaeda from a residential building in the wealthy Sherpur area of the capital of Afghanistan. It was there, during one of his moments out on the balcony, that he was killed in an American drone attack last Sunday, according to sources in Washington.
Since USA and NATO left Afghanistan and the Taliban took over power a year ago, Al-Qaida has been given more leeway in the country, warned a UN report in June, describing how the new powers have "close relations" with the organisation – despite promises to keep clean from international terrorists.
Not only al-Zawahiri but a number of Al-Qaida members are believed to have been able to settle in the former diplomatic quarters of Kabul under the new Taliban rule, notes the report.
Symbolic strength demonstration
The killing of al-Zawahiri is a symbolicly important demonstration of strength for USA and President Joe Biden, following the chaotic and criticized withdrawal from Afghanistan.
At the same time, the operation shows what many have feared: that the official objective of the American invasion in 2001 – the destruction of Al-Qaeda – has been put to shame.
Now we know black and white that Al-Qaeda has a strong presence in Afghanistan, says terror expert Hans Brun, who works at King's College in London.

This is how it all started in the 1990s, when Al-Qaeda was given refuge in Afghanistan by the then Taliban regime.
USA accuses the Taliban of having "provided protection" to al-Zawahiri in breach of the 2020 agreement paving the way for the withdrawal of international forces. IagreementThe Taliban undertook to ensure that no international terrorists would be allowed to use the country as a base "to threaten the security of USA and its allies".
Probable cooperation
The Taliban claim, for their part, that it is USA who, through the drone attack, has violated the agreement, which also states that Washington should not interfere in Afghanistan's internal affairs.
Clearly, the Taliban must have deliberately allowed Al-Qaeda to operate in Afghanistan, according to Hans Brun.
Otherwise, they would not be able to move around Kabul, especially in neighborhoods where many leading Taliban live, he says.
The motive is to take advantage of the terrorist group, believes Hans Brun.
It is more important for the Taliban to have good relations with Al-Qaida than with the rest of the world because Al-Qaida can be used as a tool to combat various types of enemies of the movement.
"Washing out someone new"
The Taliban are challenged, among other things, by ISIS, who has a presence both in Afghanistan and neighbouring Pakistan, but also sees a threat in different types of regime opponents both inside and outside the country.
By cooperating with Al-Qaeda, you gain access to the group's global network and thus gain a different reach," says Hans Brun.
Al-Zawahiri's death will not weaken Al-Qaeda in depth, believes Hans Brun.
He was 71 years old, not exactly young anymore. Now a new leader will be found.

And above all, I believe that it will begin to take advantage of the possibility in Taliban Afghanistan to run training camps relatively privately and to plan operations of various kinds.