Ahmedhodzic suspended in premiere – MFF blamed
Former Malmö FF defender Anel Ahmedhodzic failed to make his league debut for Sheffield United. The reason: a previously unknown suspension.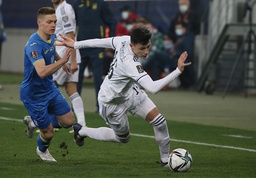 In January, Anel Ahmedhodzic landed in Bordeaux on a loan deal with an option to buy. There were a total of 15 league matches for the French team, which fell out of the league.
During the 15 games, the 23-year-old drew six yellow cards, which now made a mess of the middle slope of his new club.
The purchase option was not exercised, and Ahmedhodzic signed this summer for Sheffield United in the English second league Championship.
Contacted FA
There he was meant for the start of Monday's league premiere against Watford, but that was not the case, writesSouth Swedishwith reference to the United KingdomThe Star.
It turned out that the yellow cards in France led to a suspension that came with the English league game, something that the club was not brought to the attention until the end of last week. Sheffield then tried in vain to get the suspension lifted to the English football federation FA.
Sheffieldmanager Paul Heckingbottom believes that Malmö FF, as a selling club, should have known and informed about the situation.
Legally, it should have been explained during the transfer. We made this deal without getting all the information," he says to The Star.
MFF Responses
MFF's sports director Daniel Andersson in turn says that the club did not know that Ahmedhodzic was suspended.
We didn't know about it, but there's some weird rule that if you get three yellow cards in ten games, you'll be suspended, and then strangely enough it hung up to England, he says to Sydsvenskan.
The suspension is valid until 8 August. Anel Ahmedhodzic is therefore suspended even in the next league match, at home against Millwall.