Man sentenced to life for murder of woman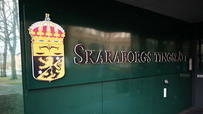 A 42-year-old man is sentenced by Skaraborg District Court to life imprisonment for the murder of a woman in Falköping last November.
When the woman was reported missing, the sentenced man was arrested as a suspect of kidnapping. They had previously had a love relationship. However, according to Prosecutor Berit Andreasson, the woman had told a number of people that the man threatened and harassed her.
After two days, the woman was found dead in an apartment, and the man was suspected of murder.
The woman had been stabbed with a knife, or some other sharp object.
The 42-year-old has previously been convicted of aggravated arson, among other things, and has received forensic psychiatric treatment. However, a new examination shows that he does not have a serious mental disorder.