Housing prices plummet – worst since the financial crisis
Prices in the housing market continue to fall throughout the country. The biggest is in Stockholm and in central Sweden. Not since the financial crisis in 2008, the fall in prices on villas has been so great.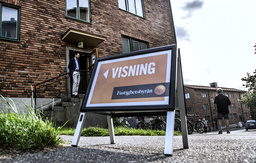 A total of 20 percent cannot be excluded, says SBAB's Chief Economist Robert Boije.
The right-of-occupancy prices also fell widely in July, according to SBAB and Boolis price index HPI, which is based on all Booli's registered house sales during the month.
In Stockholm, prices of both apartments and villas have fallen 12 per cent, compared with the top quotation last year.
Villa prices fell in all regions in July from the previous month, most in central Sweden where prices fell by 6.6 per cent, followed by northern parts of the country where prices fell by over 5 per cent. In the Malmö region, prices fell by over 4 per cent.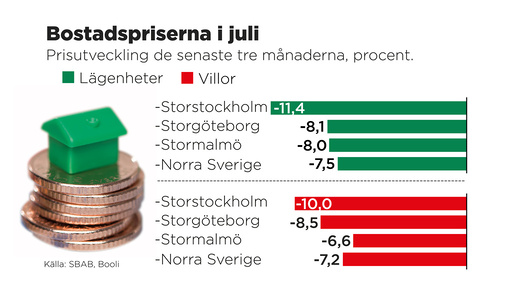 Price development according to SBAB and Booli.
Even bigger fall in prices
You have to go back to the financial crisis in 2008 to find an equally large fall in prices on villas. For apartments – so far – the fall in prices was greater during the financial crisis.
But with continued interest increases in the future, the price drop on both apartments and villas is likely to be greater than during the financial crisis, according to Robert Boije.
During the summer months, the housing market is certainly cooling off, but that is not enough to explain the recent sharp decline," points out Robert Boije.
The main explanation, of course, is the rise in interest rates. Summer months are usually lukewarm in the housing market, but if you look at, for example, metropolitan areas such as Stockholm and Malmö, the fall is considerably greater than can be explained by normal seasonal patterns.
And you have to be prepared that prices will fall further, says Robert Boije.
We will see a continued fall in housing prices as the Riksbank raises the policy rate. I think it will be another blow in the autumn," says Robert Boije.
No drama à la 1990s
On the other hand, he's not worried about "any giant drama."
By that I mean that it is not a crisis like the one we had in the 1990s; it is clear that for individual households it can be quite dramatic with a fall of 10% or more if, for example, you divorce and you have to sell your dwelling.
However, for the Swedish economy and the housing market as a whole, this does not pose any great danger, according to Robert Boije, unless unemployment increases sharply.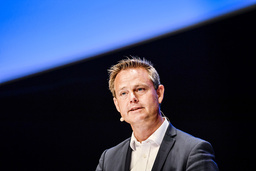 Robert Boije, chief economist at SBAB.
Facts: Development of prices in the housing market until July

| | | | | | |
| --- | --- | --- | --- | --- | --- |
| Apartments | | | | | |
| Index area | 1 month | 3 months | 12 months | So far this year | Then max |
| Storstockholm | -5.1 % | -11,4 % | -3,5 % | -7,7 % | -12,0 % |
| Storgöteborg | -2,7 % | -8.1 % | -4,4 % | -6,4 % | -8.1 % |
| Large ore island | -4,5 % | -8,0 % | -1,5 % | -2.8 % | -8.1 % |
| Northern Sweden | -1,5 % | -7,5 % | 1,2 % | 1,2 % | -7,5 % |
| Central Sweden | -2.6 % | -5.6 % | 1,3 % | -2,0 % | -5.6 % |
| Southern Sweden | -1,5 % | -4,8 % | 1,4 % | -1,8 % | -5,3 % |
| Villas | | | | | |
| Index area | 1 month | 3 months | 12 months | So far this year | Then max |
| Storstockholm | -2.1 % | -10,0 % | -7,9 % | -9.5 % | -11,7 % |
| Storgöteborg | -1,6 % | -8,5 % | -4,6 % | -6.1% | -9.8 % |
| Large ore island | -4,1 % | -6,6 % | -5.7 % | -6.1% | -8.6 % |
| Northern Sweden | -5,2 % | -7.2 % | 2,0 % | 2,9 % | -7.2 % |
| Central Sweden | -6,6 % | -6,6 % | -2,9 % | -1,5 % | -7.1% |
| Southern Sweden | -2,0 % | -6,0 % | -2.6 % | -2,5 % | -6,0 % |