S election promise: Toll-free public transport for young people
Upper secondary school students and students should be able to use public transport for free in the summer, according to the Social Democrats who make it an election promise.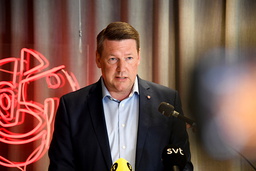 Free public transport is something we go to elections on as a Social Democratic Party on 11 September. I hope that many of these efforts are good," says Social Democratic Party Secretary Tobias Baudin.
The party wants to see a permanent state initiative and describes the proposal as a reform of freedom and equality that will facilitate the integration of young people into society, be able to take their first job and engage in summer holiday activities.
For many, it is their own wallet or family finances that can put a stop to it," Baudin says.
"Respect for ordinary people"
According to the proposal, upper secondary school pupils and students should be able to travel freely by train and bus throughout Sweden during June, July and August. The Secretary of the Party estimates that the cost of the state falls to "over the billion" per year.
We want to make initiatives that steer towards climate-smart travel and climate-smart alternatives. But this is very much about respect for ordinary people and young people who are having a tough time. We know that not least now with rising inflation how tough it is for many families, says Tobias Baudin.
The introduction of free public transport for young people was put at the Social Democrats Congress in November on a proposal from SSU. This is also S's second election promise after proposing permanently raised ceilings in the unemployment fund.
SSU Chairman Lisa Naabo wishes that public transport was free all year round but says it is always a negotiation.
It is a reform of freedom and equality that would make it easier for many parents to put together the puzzle of life if children could travel collectively instead of being picked up.
At the same time, Lisa Nabo believes that fewer people should take the car.
Certainly, most people think that would be a good future. Those who should use the car are the ones who need the car.

But there are a lot of people today who use the car for convenience reasons or because it's more economically smart than travelling collectively. So it's not very sustainable," she says.
Multi-lots
Free public transport for young people has been introduced in Stockholm during the summer, as the moderate regional council Kristoffer Tamsons described as something "the whole society benefits from".
The Left Party and the Green Party have also proposed at national level either to introduce totally free public transport or to substantially reduce the price of tickets.
I think there are good opportunities to get support for this issue," says Tobias Baudin.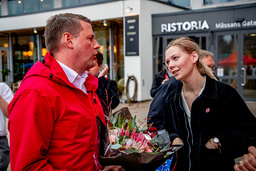 Tobias Baudin and SSU's President Lisa Naabo during the Congress of the Social Democrats in Gothenburg.