Acute shortage of water in Emån
Important Emån's flows are as low or lower than during the extreme year 2018. The acute situation means that the county boards in Jönköping and Kalmar require a stop for all irrigation that lacks a permit.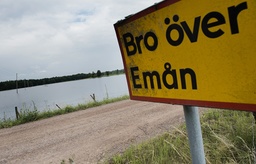 Now it is important to save the water, the little that is out there in nature. It is extremely low water and sinking, says Måns Lindell, water handler at the County Administrative Board in Jönköping County.
The county administrative boards judge water withdrawals without permission as illegal. Anyone who still uses the water risks a penalty. These may be homeowners who water the lawn, growers or irrigation of football fields and golf courses.
Those who are licensed are encouraged to limit their withdrawals to nights with weak winds, as it is more resource efficient.
Right now more water is being taken from Emån – which flows through parts of Småland – than is being added. The weather forecast for the next two weeks also looks gloomy without any large amounts of rain.
Water levels were also very low in 2016, 2017 and 2018.
2022 we are down to level with or during 2018. The main reason is the absence of precipitation since March. We had an extremely dry spring down here. Margins were small from the beginning, says Måns Lindell.
The difficult situation affects plants and wildlife but also all activities that depend on water from the Emån. In addition to irrigation, the water is used for example as drinking water and for electricity- and food production.
We have natural values that are extremely high. There are many animals and species that are also entitled to their water, says Måns Lindell.
Facts: Emån
Emån is southeastern Sweden's largest watercourse and valuable from a resource and natural value point of view.
At present, Emån contributes drinking water to six municipalities divided into two counties.
In total, there are over 30 different species of fish in the river and its flows, including the endangered species of aspen and vimma.
The river is also one of South Sweden's core areas for the threatened large mussels river fur mussels and thick-scale painting mussels.
In 2016, the socio-economic value of Emån was estimated at approximately SEK 800 million.
Source: County Administrative Boards of Jönköping and Kalmar