NBA legends death – hailed by Obama
One of the largest in American basketball, Bill Russell, has died 88 years old, it announces his family. As a player, Russell won eleven NBA titles.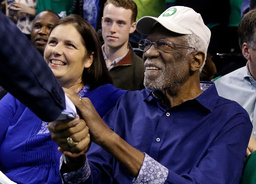 Bill Russell was as a player active during the 50s and 60s and counts as one of the best basketball players of all time.
"With a heavy heart we must announce that the greatest winner of USA's sports history has died peacefully. He had his wife Jeannine by his side," the family wrote onTwitter.
With Boston Celtics, Russell won eleven NBA titles in 13 years. The last two as playing coach became the first black person to lead a team in one of the biggest American sports. Together with ice hockey player Henri Richard, Russell shares the record of the most titles in a top league in professional American team sports.
"He paved the way for all the black players who came after him, including me. The world has lost a legend," says six-time NBA winnerMichael Jordanin a statement.
In addition to his basketball act, Russell stood up for the rights of black people. In the face of a show game in Kentucky in 1961, restaurant staff refused to serve the black players in Boston.
"For decades Bill was subjected to insults and vandalisms, but he never let it stop him from speaking out what was right. I learned so much from how he played, how he coached and how he lived his life," wrote USA's former president Barack Obama atTwitter.
Russell stood up for the boxer Muhammad Ali when he refused to join the army for religious reasons and marched with Martin Luther King during the iconic "I have a dream" talk in 1963. Russell was also active in the Black Power movement.
In 2011, Russell was awarded the President's Freedom Medal by Barack Obama for his fight for black people's rights.