Antonsson sank Hammarby again: "Damn it"
Värnamo's target king Marcus Antonsson has once again sunk Hammarby in football Allsvenskan.
The Smålanders were most effective and won with 2-1, when "Bajen" missed several chances at Tele2 arena in Stockholm and was booed by the home audience.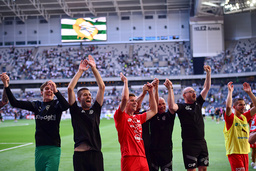 Faced with the football All Swedish meeting between table four Hammarby and 13th-placed IFK Värnamo, the home team had three straight wins and the away team had five straight games without victory in the series.
After the game at Tele2 arena in Stockholm, both suites had ended.
The newcomer Värnamo won with 2-1 and took his first win in two months when it was 1–0 at home against Hammarby.
Eighth and ninth cases
Just like then, Marcus Antonsson Värnamo scored. On May 29, the 31-year-old attacker scored the only goal of the game. On Sunday, there were two, the first of which reminded us of the match decision at Finnvedsvallen in Småland last time the team met.
Antonsson was now free-played in the 76th minute by Freddy Winsth and ended chilly with the right, his eighth goal this year.
It was nice, incredibly nice, says Marcus Antonsson to Discovery+ and continues:

So damn good with three points.
The 2-1 goal, his ninth in 16 played games, he skilfully bumped in with the left on a precise right post from Edvin Becirovic at additional time in the 93th minute.
Ropeed on the free kick
Both the team Hammarby and Hammarby's home supporters shouted for free kick in a sequence before Värnamos' 2-1 goals, but chief judge Kristoffer Karlsson and his team proposed.
Hammarby, who had lots of chances in the game, had a few minutes earlier signed off on punishment through Nahir Besara for the 89th minute. After the loss many of the "Bay" supporters booed among the 22 689 spectators at the grandstand.
The result was that Värnamo fortified his place on safe ground in the ever-Swedish table, 16 points in 16 games. Hammarby for its part missed the chance to go up as a new table two. In parallel with the match in Stockholm, Häcken played 4-4 away against Elfsborg in Borås. Hammarby, 30 points, is now three points behind serially leading Djurgården, 33 points and better score difference than the Stockholm Rival.
On Sunday Mjällby was also placed against Sirius in Uppsala.
The meeting ended with Djällby victory, 1–0, after a goal by Victor Gustafson in the 47th minute.
The result was that Mjällby took his second straight victory and went up in sixth place in the table. Sirius is found in tenth place, with ten points down to Degerfors in qualifying place.