Hundreds of summer workers are asking for help
Thousands of young people are out on their first summer jobs. But for everyone it is not the experience they were hoping for – several have called in to The Swedish Trade Union Confederation's helpline to ask for help and advice.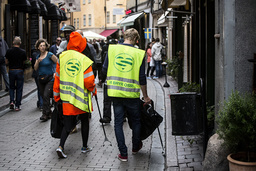 Last year, approximately 650 calls were made during the summer months, according to the trade union The Swedish Trade Union Confederation, which operates the union's helpline for young summer workers.
This year the number of calls was about the same, but unlike previous years, they came to a greater extent from the commercial, hotel and restaurant industry, says The Swedish Trade Union Confederation's junior secretary Elsa Alm.
There have also been many conversations about sick pay, that employers remove passports, and some questions about dismissal," she says.
When this happens, summer workers are referred to the right trade union, which can do more than just provide information.
Maintaining Pay
Something that stands out is so-called "sunshine agreement" – that you can only work when the weather is good.
According to Alm, it is important to remember that you should get paid even if there is not much to do.
If the boss tells you to go home, then you can either be reassigned to other tasks, and no matter what, you should keep your salary.
Free Trial Job
Another feature of the calls is that employers request free trial jobs – sometimes up to periods of two weeks. It is then not uncommon that the employee still does not get the job.
This is something we strongly urge you to reject. There is nothing called "test job", but you are always entitled to pay for the work you do.
Another risk of free trial work is that there is no documentation on the job, so if you hurt yourself you may at worst have to pay for those costs yourself.
Alm also reminds us that young people are more likely than the rest of the population to get hurt at work and that they are over-represented in workplace accidents.
Therefore, you should always get a safety review around the workplace, and never do anything that feels unsafe," she says.
Facts: Checklist for summer workers
Get a certificate of employment.

Your age determines what you are allowed to do.

Make sure you receive holiday compensation.

Never work without insurance.

Keep an eye on undeclared work, taxes and adjustment.

Keep track of the payroll statement.

Always ask for a certificate of service.
Source: The Swedish Trade Union Confederation