"I think people forgot about us."
Germany is a game from the ninth European Championship gold on the women's side.
But this time most of the champions have had to hunt for gold as a bit of an outsider.
I think people forgot about us, says Lena Oberdorf.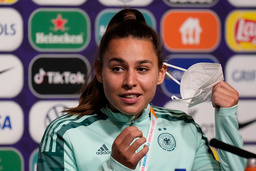 No nation has been more successful in the women's Euro than Germany and with eight gold they have a superior title.
But before this summer's European Championship there wasn't too much talk about the team.
France, England and Sweden are some teams that were painted as gold favourites while Germany got to sail a little under the radar.
But five European Championships later it is Germany that is in the European Championship final against England.
I think people forgot about us. It's been a bit upside down for us, we lost to Serbia (2-3, World Cup election in April) but then we won against Switzerland with 7–0," says Lena Oberdorf.
"Found each other"
The 20-year-old says the team has really found it right during the upload to the championship and it has borne fruit.
I'm glad we found each other during the camp. Now we have shown what qualities we have and we get them out on the field, and that's what we want to do in the finals," she says.
Svenja Huth, who made two assists in the 2-1 victory against France in the semifinals, says that the players came together as a group in the months where the team did not have the results with them. Among other things, the Germans lost against both Canada and England in Arnold Clark Cup in February.
Of course, there have been setbacks, but we have built a team, a unit. I am very proud of our team and to be here. We have a very good feeling in the group, Huth says.
At Wembley in London, England awaits the host nation. The football rivalry between Germany and England extends far back. Among other things, the countries of the 2009 European Championship Final met with Germany as winner, 6–2.
It electrifies the atmosphere for the fans. There is a story and both teams deserve to be here and everyone is looking forward to it. Millions will watch the game, and if we had dreamt before the European Championship we would have chosen a final against England, says Federal Commander Martina Voss-Tecklenburg.

We've been dreaming about this. To play a final against England here at Wembley, I don't know if it's a bigger moment for our players. It's definitely one of the greatest moments. We really want to be in the present and enjoy everything, says Voss-Tecklenburg.
Want to win for the star
Svenja Huth believes that rivalry is not something players think about very much, at least here and now.
In the media it is clear that there is some talk and it "puzzles" everyone a bit. It's a classic game but for us the focus is not on past or future. It's only about tomorrow (Sunday). We want to give everything and win the European Championship, she says.
Svenja Huth and the teammates will, however, need to hunt the EM gold without the offensive key player Klara Bühl. Bühl was tested positively for covid-19 for the semifinals and has not yet provided a negative test response.
It is very emotional. Hopefully we can win for Klara, says Voss-Tecklenburg.
Facts: Germany
Germany-Denmark 4-0, group games
Germany-Spain 2-0, group games
Finland-Germany 0-3, group games
Germany–Austria 2–0, quarter final
Germany-France 2-1, semi-final
World ranking: 5.

Merits: One Olympic gold, two World Cup gold and eight European gold. Germany and championships are a working combination and no team has won more European championships.
The latest European Championship gold was 2013 and the latest championship medal was the Olympic gold medal in Rio de Janeiro 2016.