Important victory for Degerfors: "So fucking slow"
The duo Dijan Vukojevic and Rasmus Örqvist were crucial in ensuring Degerfors beat Kalmar FF with 2-1.
The football All Swedish match was Kalmar's fifth straight away game without three points.
We are so fucking slow, says Henrik Rydström, Kalmars coach, to Discovery+.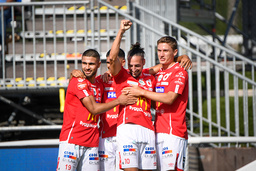 The table jumbo Degerfors received Kalmar at Stora Valla in all of Sweden and the home team got a dream start on the match.
Midfielder Rasmus Örqvist was free-played by Dijan Vukojevic and placed the ball at the far pole. The goal was the 23-year-old's first in the all-Swedish game.
After that, the home team continued to stick up with dangerous cones. Omar Faraj got a huge position to expand the lead but Ricardo Friedrich in Kalmar made an impressive one-handed rescue and also caught the return.
Kalmar's Dominance
Kalmar dominated the possession of the ball, with a few minutes left until the rest had the away team had 75 percent of the holding, but the really hot goal chances did not exist.
In the end, however, the receipt came. Oliver Berg, Kalmar's captain, gunpowdered in 1-1 from close range after fine preliminary work by Malmö FF loan Sebastian Nanasi.
In the second half, Kalmar continued to fall into the ball. But Degerfors defended himself well and was dangerous on cones.
It was also a contring that led to the match's decisive goal. Örqvist struck a nice post for Vukojevic that easily placed 2-1 to Degerfors.
"Probably damn bad."
Obviously, I'm a damn bad football coach who can't get my players to run against teams they think they're better than," says Henrik Rydström, Kalmars coach, to Discovery+ and continues:

We're no better than any team in Sweden if we're not maxing out.
With about 20 minutes left, Kalmar's Finn Simon Skrabb was replaced. In connection with the exchange Skrabb drew a yellow card, which means that he is switched off in the next round towards AIK.
The result means that Degerfors climbs up on the qualifying ground, one point before both the second jumbo Helsingborg and the jumbo Gif Sundsvall.