Pope hints at retirement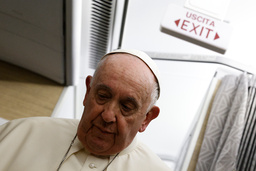 Pope Francis hints at a possible retirement on his flight home from Canada, where he apologised this week for what he now calls the "genocide" of indigenous peoples.
In the plane home from his six-day visit to Canada, Pope Francis says that he must slow down the pace of travel, or "stick aside".
I think that at my age and with my knee problems I have to take it a little slow to serve the church. Alternatively, consider if I should possibly step aside, he says to the journalists aboard the pope's private aircraft.
The purpose of the visit to Canada was to apologize for the abuse suffered by its indigenous people in Catholic schools in the late 1800s until about 1990.
During the flight home, he describes the treatment of indigenous people as "genocide".
I didn't say the word because I didn't think of it then, but I described genocide, did I? says the pope to the journalists.

I apologised, I asked for forgiveness for that action, which was genocide.